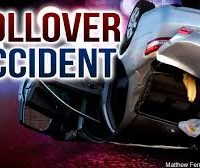 October 1, 2019
By Paragon News Director Paul Joseph –
Two people from Arkansas remain hospitalized in Oklahoma City following a weekend accident on Interstate 40 in Custer County.
The vehicle in which the two were riding, a 2008 Ford F-150, ended up – upside down – in a Clinton area restaurant parking lot on the north side of the interstate.
The passenger, 79-year-old Amy Wilson of Bella Vista, remains in serious condition following the accident just a few minutes before 8 pm, last Friday night.
71-year-old Wilson Scott, Junior, also of Bella Vista, is reported to be in good condition today in the same hospital, OU Medical Center.
According to the Oklahoma Highway Patrol report, the two were westbound on the interstate when the driver is thought to have fallen asleep. The pickup ran off the road to the left where the driver awoke and over corrected. When it went right, off the roadway, it struck an embankment going airborne for about 45 feet over the service road, north of the interstate. It came to rest in Jiggs Smokehouse parking lot, upside down, about three miles west of Clinton.
Amy Wilson was pinned in the pickup about 15 minutes before being freed.
Both Wilson and Scott were wearing seat belts.
– 30 –