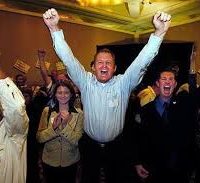 August 14, 2019
By Paragon News Director Paul Joseph –
Mangum voters overwhelming approved a proposition that will allow the city to keep a penny of their own sales tax.
The proposition, Number 4, was one of four that voters in Mangum approved Tuesday in a special election.
The City of Mangum collects three-cents on every dollar of sales in the city, but the city itself has only gotten to deposit in city coffers two of the three cents it's collected. The other one penny has been sent to pay off a hospital bond.
Twenty years ago, residents approved the one cent sales tax to help the then struggling hospital. The term of the bond was 20 years and it was officially paid off earlier this year.
Proposition 4 was a question to the voters to keep the penny sales tax alive and begin depositing it into the city treasury for city needs.
It passed by almost 82% of the vote.
Mangum Mayor Mary Jane Scott is very happy the measure passed.
She says she's excited to begin diverting that money into the city considering they're already collecting it anyway.
The other propositions passed by considerable measures. Proposition one allows the city's commissioners to appoint a qualified person to fill any seat on the board. Proposition 2 gives the Mayor a vote on all questions, not just in the case of a tie and Proposition 3 turns the city elections over to the Greer County Election Board. Up until now, the city has been responsible for all city elections.
– 30 –