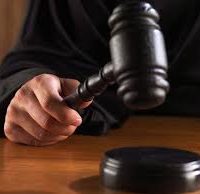 June 12, 2019
By Paragon News Director Paul Joseph –
An Elk City couple have pleaded guilty to various drug charges and have been sentenced.
The two were pulled over by Elk City police after they'd left an Elk City residence known for crack cocaine distribution. Police had been tipped off moments before their arrests.
34-year-old David Lewis Tucker, a previously convicted felon and 45-year-old Cherry Danette Carter who has no prior felony convictions were pulled over near the Elk City Junior High School on August 23.
Carter told police that she had nothing in her pockets, but officers were able to find a black digital scale in one of her pockets. She said she didn't know what it was, but had found it on the ground. Police also found a full cup of a mixed vodka drink next to where she was setting in the vehicle and officers determined that she was intoxicated.
While searching the vehicle, police allegedly found a glass pipe believed to be used for smoking methamphetamine.
Once in jail, jailers retrieved a plastic bag from Carter's body cavity that contained four smaller bags, all allegedly containing illegal drugs, one of which was about 6.3 grams of what police tested as crack cocaine. Other drugs allegedly included 2.9 grams of meth, another one with more cocaine and a fourth baggie allegedly contained about 2 grams of what police believe was marijuana.
During an interview, Carter allegedly confessed that she uses methamphetamine that Tucker gives her. She said she used to purchase it from him, but since the two had been living together, Tucker no longer charges her for it.
Tucker pled guilty to distribution of a CDS within 2000 feet of a park or school and received 11 years in prison with all of the sentence suspended except as to the first year in the Beckham County Detention Center and a $100 fine.
Carter pled guilty to drug trafficking and sentenced to four years in prison and a recommendation to attend a drug treatment facility.
– 30 –