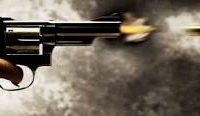 November 2, 2018
By Paragon News Director Paul Joseph –
A Clinton man will spend the next year in jail after pleading guilty to shooting his girlfriend.
The woman suffered non-life threatening injuries and was sent to an Oklahoma City hospital following the Halloween shooting 3-months ago in the home that the two "sometimes" shared in Clinton. She was reportedly shot once in the right shoulder with a .22 caliber pistol following a domestic dispute.
Donald Biff Walters had been originally held in the Custer County jail on a $200-thousand dollar bond after his arrest.
The incident happened about 1 pm in the afternoon of October 31 in the 100 block of Forrest Lane. Before being taken to the hospital, the victim told investigators that it was Walters that had pulled the trigger.
Walters, a previously convicted felon, was sentenced to six months in the Custer County jail for reckless conduct with a firearm, a misdemeanor, and a year in the county jail for possession of a firearm after former felony conviction, a felony.
The official sentence for count 2, the gun possession charge, was 10 years with all except the first one year suspended and will get credit for time already served in jail.
He was additionally ordered to pay court costs, a fine and other fees and will be supervised by the Department of Corrections.
The two sentences are to run concurrently.
– 30 –