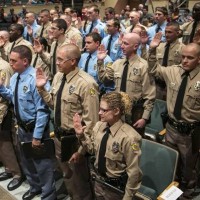 July 26, 2016
By Paragon News Director Paul Joseph  –
With all the recent negative publicity, pain and turmoil associated with the "men in blue," the Clinton Chamber of Commerce is showing support for area law enforcement.
They're calling it, simply enough, "Law Enforcement Appreciation Day."
Chamber President Julie Menge says her Chamber's Board of Directors has invited everyone, not only all of the Western Oklahoma law enforcement agencies, but everyone from Beckham, Custer and Washita Counties to a reception honoring all local law enforcement agencies.
Menge says she's personally heard back from a number of agencies and representatives will be sent from Clinton, Elk City, Weatherford, Arapaho, Custer County Sherriff, the Oklahoma Highway Patrol, Butler, Custer City, Thomas, Washita County Sherriff, Cordell, Burns Flat, Sayre and the Beckham County Sherriff's office.
She says come, support and thank those that protect and serve the citizens of Western Oklahoma.
She says wear blue that day.
The reception will be held on July 28 at 9:00 a.m. at the Frisco Conference Center in Clinton.
–            30              –