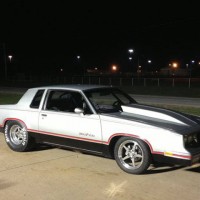 July 21, 2016
By Paul Joseph, Paragon Communications News Director –
Few names in this world are as synonymous with fast cars and drag racing as is Andrade.
The Andrade family from El Reno is known far and wide in the drag racing world, with John Andrade Sr. starting the family tradition of racing, down to the youngest racing brother, Jayce Andrade.  Then, sandwiched in between is John Andrade, Jr., who gained his fame on Street Outlaws as "The Cutty."
With 1.5 million followers on Facebook, The Cutty is a street drag racing legend.
This Friday, John Jr., John Sr., & Jayce will all be in Sayre at the Cruise-In. They will have their famous cars "The Cutty", 'The Red Dragon", and "The Yeti" on Main Street and will have merchandise available for purchase. Fans will have the opportunity to have their photo with the Andrade's and check out their cars on Main Street from 6:00 to 10:00 pm, Friday night.
In addition, fans are invited downtown to check out the classic cars, drag cars, Jr. Drags, and enjoy food vendors and burn outs in the Burn-Out Zone on south 4th Street.
Sayre Street Race merchandise and reduced price advance tickets for Saturday night's race will be available on East Main Street and several retail stores will stay open late for attendees to get in a little shopping.
"This will be "The Cutty's" second time to the event according to Sayre Chamber Director Belinda Graham.
Due to forecast scorching triple digit temperatures, Saturday night, July 23rd, gates will open at 5:00 pm, racing will begin at 8:00 pm with Jr. Dragsters starting at 7:00 pm.
–             30              –