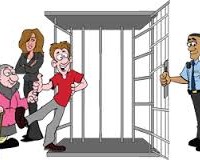 July 12, 2016
By Paul Joseph, Paragon Communications News Director –
A Washita County man has bonded out of jail after being charged with two felonies.
29-year old Joshua Lee Tilley has been charged with domestic assault and battery with a dangerous weapon and reckless conduct with a firearm.
According to a probable cause affidavit, Tilly was allegedly fighting with his wife, firing shots with a weapon and threatening to cut the water off to horses. He told her he, instead, wanted to use the water tank to store fish that he'd caught, but she wouldn't let him.
Washita County Sheriff deputies responded to the call along with a Cordell police officer in the 800 block of East Kiowa in Cordell. Tilley's wife told them that she had stood by the plastic water tank trying to keep Tilley, who was reportedly intoxicated, from cutting it with a chainsaw.  Finally, she says, he allegedly came toward her with the running chainsaw after making several large cuts into the side of the tank.
At one point, he had a handgun and allegedly fired off several rounds into the air after threatening to shoot the horses.
The officer located one spent .38 caliber casing on the ground as well as several unfired .22 caliber rounds next to tire tracts in the dirt, left when Tilley peeled out in his white, GMC pickup with a .22 rifle.
Tilley was taken into by the Caddo County Sheriff's department in the early morning hours of June 17 near Fort Cobb.
He's out on a $20-thousand dollar bond awaiting his next court date of August 23.
–              30              –