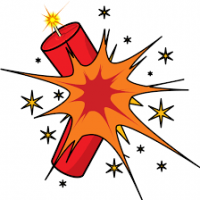 July 8, 2016
By Paul Joseph, Paragon Communications News Director –
Elk City residents were able to sit in a safe viewing area, free of fireworks this year through a partnership with the Elk City Public Schools.
Each year, the city holds its municipal fireworks display in Ackley Park and it's well-attended.
City manager Lee Litterell says this year, through the partnership, the viewing area on the school campus was for families to enjoy the display without fear of being harmed or attacked by someone shooting off fireworks.
It's already time to look into a new landfill. City officials say the life expectancy of the newest one is coming to an end in about two years or less, depending on its utilization.  City Commissioners recently agreed to begin working with Myers Engineering to start development of a new one.
The current landfill was opened about two years ago and was the first of four, eventual, landfills that can be built at the same sight.
The commission also approved a payment to Myers Engineering for an expenditure at the Big Elk Industrial Park in the amount of about $5-thousand dollars. Litterell says the park almost completely finished, saying all the city lacks is running electrical service to the sewer lift station.
The commission also approved a bid to Culver Electric for the complete electrical re-work of the Elk City Convention Center in the amount of $82-thousand-500 dollars.
The commission meets again on Wednesday, July 20 at City Hall.
–            30              –