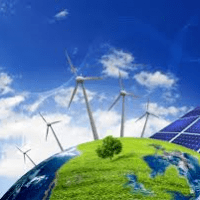 October 1, 2015
By Paul Joseph, Paragon News Director –
The world can transition to 100 percent renewable energy by the year 2050, according to a new report from Greenpeace.
The plan calls for phasing out oil and gas at a rate that matches the depletion of existing fields, and warns exploration for new fields should be seen as high-risk investments – since those fossil assets could end up stranded in a clean-energy future.
Kelly Mitchell with Greenpeace U-S-A calls the study a "roadmap" showing the move is possible, but says it's not a crystal ball.
She notes the study is in line with science showing up to 80 percent of existing fossil fuels must stay in the ground in order to keep temperatures from rising above 2 degrees Celsius – a marker scientists project could maintain a habitable climate.
Mitchell says all that's needed now are world leaders willing to put the plan to work.
Mitchell admits weaning the world's economies off of coal, oil, nuclear and eventually natural gas will require significant investments.
The report projects the price tag for transitioning to clean energy could reach a trillion dollars a year until the year 2030.
The report found moving to clean energy could create more than 20 million new jobs between now and 2030.
Mitchell says the transition won't happen overnight, and since more than two million people would still be employed in the fossil energy sector by 2030, there is time to re-train workers.  Greenpeace says moving to 100 percent renewables would require a strong agreement at the World Climate Summit scheduled in Paris later this year.
–     30     –